We all know harps have strings that are plucked or strummed. Some harps have pedals. But did you know that there's jazz for harp? Or that some historical harps had three rows of strings?
Explore the links below to find out more about the history of the harp, the types of harps, and the place of the harp in the 21st century!
Left: A "harp tasting" video of the harps I own! Below are the times and Harps Taste-Tested:

((Immediate, Back-to-back Comparison: @ 39:51))
Folk Backyard "Fireside Harp" @ 5:55:00 -- 22 string nylon, no levers
Dusty Strings "Allegro" @ 10:27:00 -- 26 string nylon, fully levered
Lyon & Healy "Folk" @ 14:18:00 -- 34 string nylon, fully levered
Lyon & Healy "Ogden" @ 20:52:00 -- 34 string gut, fully levered
Camac "Korrigan" @ 23:15:00 -- 38 string gut, fully levered
Venus "Premier" @ 33:04:00 - 46 string, pedal

Pieces:
Lord of the Rings (Howard Shore) "Hobbit Theme"
Christina Tourin "White Rose"
Bernard Andres "Duke"
Below: Content reproduced from the Harp Spectrum
What Is a Harp? - by Joyce Rice and Deb Seymour
What is a harp? Is it the instrument played by angels floating on clouds? Or is it that tall, golden, half-hidden thing in the symphony orchestra? Maybe it's that squat and broad instrument in an Irish band or the stringed instrument accompanying an African storyteller.
The harp, in fact, is all those things. It can accompany a voice, a silver flute, or be backed by jazz bass and drums. It can have a body carved from a single chunk of wood, or one precisely constructed from 2000 hand-crafted or machine-tooled pieces. It can be played with only the hands or with both hands and feet, as in the case of a pedal harp. It can be played solo or as part of an ensemble. But no matter where, or what kind, or how it's played, the harp remains one of the most beautiful and fascinating instruments in the world.
In simplest terms, the harp is any plucked string instrument, usually triangular in shape, in which the plane of the strings is perpendicular to the soundboard. Zithers, auto harps, guitars and violins all have their strings running parallel to the sound board (or sound hole), which is their major difference from harps.
Although harps come in a huge variety of shapes, sizes, and weights, they all consist of three main parts: the sound board (or box), the neck, and the strings. The modern Western harp is triangular in shape. Most harps are between two feet (60 cm) to six feet (1m.80) tall and have 22 to 47 strings. Smaller harps may sit on your lap, but larger ones usually rest on the floor. Their strings may be of gut, wire, or nylon, in one, two, three, or crossed ranks.
Harps are found, in one form or another, throughout the world, in more sizes and shapes than almost any other instrument. The harp is one of the oldest instruments, known to have flourished in ancient Egypt, and one of the newest, as with the electric harp. The harp also occupies a colorful place in history. It has been celebrated by some nations and destroyed by government decree in others.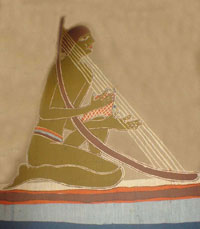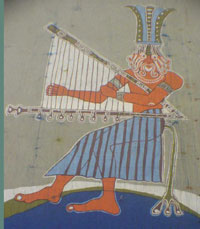 What type of Music can the Harp play?
Everything you can expect and more! Listen to all the ways that harp is taking the music world by storm!
Video Carousel:
Pop harp: Game of Thrones

Elecroacoustic harp: Pompeii

Harp Duets: with violinist Lindsey Sterling

Jazz and Blues Harp: original composition

Classical Harp

World Harp / Harp Ensemble: orig. comp.
What types of Harps are made today?
The simple answer is: thousands, in literally every shade of the rainbow and detail!
Put some harp music on in youtube and look for "harp makers" in Google!
Important People to the Harp World

Sebastien Erard (Germany, 1752-1831), developed the single action and double action harp, revolutionized the harp by the invention of the fourchette mechanism (discs with prongs) that is still used today.
Marcel Grandjany (France, 1891-1976), successful harp virtuoso, esteemed teacher, helped found the American Harp Society.
Alphonse Jean Hasselmans (Belgium, 1845-1912), refined the techniques known as the French method of harp playing, instructed many respected harpists while harp professor at the Paris Conservatoire.
Lily Laskine (France, 1893-1988), harp prodigy with a long career including posts at the Paris Opera, Orchestre National de France, Theatre Francais and as professor of harp at the Paris Conservatoire; also a successful recording artist.
Harpo Marx (USA, 1888-1964), second oldest of the "Marx Brothers" - the popular vaudeville act and movie team of the 20's and 30's; taught himself to play the harp while never learning to read music; his two gold Lyon & Healy harps were donated to an Israeli university for student use upon his death.
Turlogh O'Carolan (Ireland, 1670-1738), blind harpist and composer of the harp, wrote many popular Irish airs.
Charles Oberthür (Germany, 1819-1895), renowned harpist and composer.
Elias Parish-Alvars (England, 1808-1849), considered one of the best harpists of all time; composer of concertos, fantasias and solos for harp, many still popular today.
Henriette Renié (France, 1875-1956), was one of the first successful female harp virtuosos and a respected teacher and composer.
Alberto Salvi (Italy, 1893-1983), renowned harpist, performed many solo concerts in a time when more harpists were accompanists; performed in many operas; recorded with RCA Victor and was popular on radio.
Carlos Salzedo (France, 1885-1961), widely credited as establishing the harp as a significant instrument in the 20th century; composed a large body of music pieces for the harp; esteemed harp virtuoso and beloved teacher; designed the Lyon & Healy Salzedo model harp.
Marcel-Lucien Tournier (France, 1879-1951), harp virtuoso and composer; succeeded Hasselmans as professor of harp at the Paris Conservatoire.
Nicanor Zabaleta (1907-1993), increased the popularity of the harp worldwide by aggressively touring and selling more than four million copies of his recordings.